for the perfect gathering
Conference & Meeting Space in Torquay
Our spacious Woodfield suite can accommodate up to 50 people, making it ideal for your gathering. We also show films here of an evening.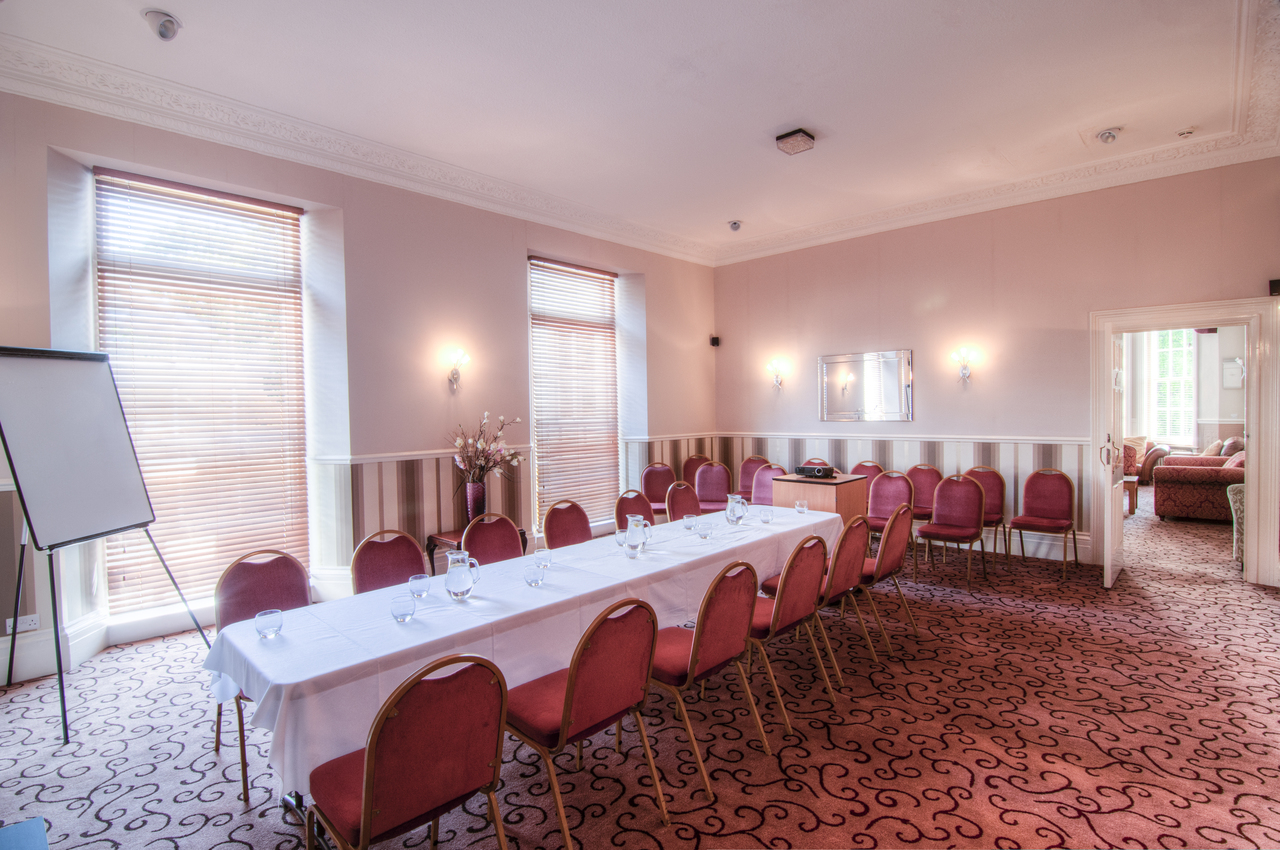 Your conference
Boardroom style meetings
Or theatre style
Full sit-down meals or buffet
Tea, coffee, biscuits & Danish pastries
Relax on our patio or in lounges during breaks
Reduced rates for people wanting a room
Conference Room Rates
Woodfield Suite - Room Hire
Hourly - £25
Half day - £75
Full day - £100
Charges include setting up our conference room and use of lounge areas.
Audio-visual Equipment
Flip chart - £15
Drop down screen or projector only - £15
Projector and drop-down screen - £25
These prices are not inclusive of food
Sample Buffet Menu
Sandwich Buffet
A selection of Sandwiches with a variety of fillings served on Fresh White & Brown Bread with Salad Garnish
£5.50 per person


Finger Buffet
A selection of Sandwiches with a variety of fillings served on Fresh White & Brown Bread, Quiche Assortment and Hot Mini Sausage Rolls served with a Salad Garnish
£6.50 per person


Fork Buffet
A selection of Sandwiches with a variety of fillings served on Fresh White & Brown Bread, Quiche Assortment and Hot Mini Sausage Rolls served with a Salad Selection
£7.50 per person


Devon Cream Tea
Homemade Scones served with Strawberry Jam and Clotted Cream accompanied by a choice of freshly brewed Tea or Filter Coffee
£9.50 per person


Devon High Tea
A selection of Sandwiches with a variety of fillings served on Fresh White & Brown Bread, Homemade Scones served with Strawberry Jam and Clotted Cream, Assorted Cakes accompanied by a choice of freshly brewed Tea or Filter Coffee
£12.50 per person


Desserts
Choice of Hot or Cold Desserts
£3.00 per person per Dessert


Beverages
Freshly Brewed Tea and Filter Coffee
£2.50 per person
Freshly Brewed Tea and Filter Coffee served with Biscuits
£3.00 per person
Freshly Brewed Tea and Filter Coffee served with a selection of Freshly Baked Pastries or Cake
£4.50 per person
Jugs of Juice
£3.00 per jug